What is Occupational Health and Safety?
The purpose of occupational injury treatment is to prevent job-related injury and sickness by:
Ergonomics (The study of people's efficiency in their working environment)
Observing the health of the workforce
Encouraging safe working practices
Supporting the management of sickness absence
One branch of occupational health is Occupational Health Injury Treatment.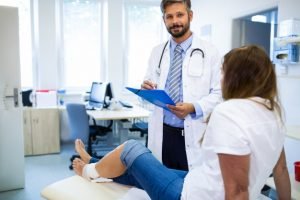 How Occupational Injury Treatment Is Done at SNOHC?
If an employee is injured at the workplace, no matter how severe, it's considered as an occupational injury and it needs to be taken care of by the occupational health clinic in contract with the business. There are multiple reasons for occupational injuries.. They can happen due to trauma, wound, bruise, laceration, cut, chemical exposure, eye, heat, or musculoskeletal injuries.
At SNOHC, a patient can get help to recover from his/her work-related injury. This can be done through comprehensive physical examination and special testing such as labs and imaging.
Once the diagnosis is established, the patient will work closely with one of our providers to ensure prompt recovery. At SNOHC, patients get help for close monitoring and faster recovery without delay. Referral to specialists will be made if the patient needs special care that is not offered at SNOHC. Compared to other centers, an appointment can be arranged on the same day.
Occupational injury treatment is our priority at Southern Nevada Occupational Health Center, so the patient may walk in without scheduling an appointment.
How Can an Injury Occur?
An injury is an unplanned or unintentional event of getting harmed without prior precautions. Injury can occur anywhere in the body. Injury can be visible if it is a wound, scar, scratch, lesion, or an abrasion. But, there are internal injuries as well. For instance, if you get a muscle strain or sprain, or you happen to fracture your bone, it is known as the internal injury. Internal injury may not be visible on the skin, but it swells the muscles within the affected area. This is why the Occupational Injury Treatment becomes so important. Also, inflammation is common in internal injuries.
Treatment of Internal Injuries
At SNOHC, if you are reported to have an internal injury, you receive immediate medical attention. At SNOHC, you will be facilitated with an X-RAY service, to ensure if there is any internal injury. The doctors will then look through the fractures or the muscle strain if there are any. Internal injuries are more dangerous than the wounds and scratches so that they will be treated immediately at SNOHC.
SNOHC has performed occupational health services for +15 years in Las Vegas. The team of our experts covers every aspect of Occupational Injury Treatment.
For more information, or to make an appointment, either call us or fill out the form.