What is the QuantiFERON test?
QuantiFERON test is a blood test used to diagnose Mycobacterium tuberculosis. This bacterium causes tuberculosis. This is an interferon-gamma test (IFN-γ) release assay commonly known as IGRA. In other words, this test is an alternative to the tuberculin skin test and is currently available in public health laboratories, hospitals, and commercial laboratories across the United States.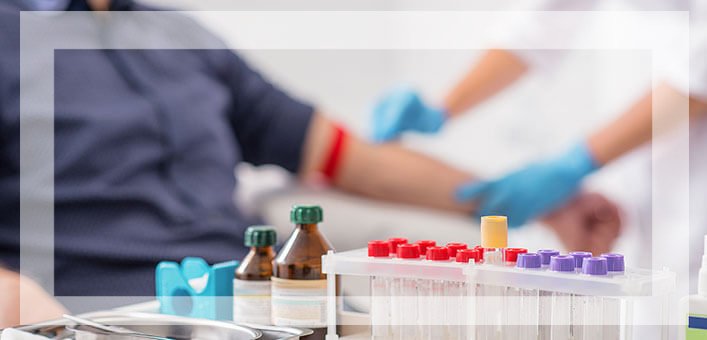 Quantiferon test vs TB skin test
In the TB skin test, a small amount of fluid is injected into the skin of your arm, and the results are checked after 48 to 72 hours. Therefore, in order to perform this test, you must visit the doctor's office twice. Quantiferon test is a controlled laboratory test that needs one patient visit. You can still get this test if you have already received the Bacille Calmette-Guerin vaccine. Hence, the results of this test will not be affected by the previous vaccination. Like the TB skin test, the test results do not distinguish between active and latent infection. Therefore, in terms of clinical judgment, we need to perform other medical and diagnostic evaluations.
Other benefits of this test include:
QuantiFERON test results are available within 3-5 days.
This is highly specific and sensitive.
This test is not subject to reader bias that can occur with the TB skin test.

Disadvantages of this test are:
The blood sample should be analyzed within 8-30 hours after sampling.
Errors in collecting or transferring the sample can affect test accuracy.
This test may be a little expensive.
Limited data is available in the following cases:
Children younger than 5
Serial testing
People with impaired immune systems
People who have recently been exposed to Mycobacterium tuberculosis
Who should be tested?
Centers for Disease Control and Prevention (or CDC) recommends TB test to the following people:
People who are in contact with patients at risk for TB (such as people working in nursing homes)
People with weak immune systems
People coming to the US from foreign countries with a high prevalence of tuberculosis (countries such as Latin America, the Caribbean, Africa, Asia, Eastern Europe, and Russia)
People who have been with someone who has had TB.
People who use illegal drugs
People with symptoms of tuberculosis (fever, cough, and weight loss)
Healthcare workers
When do we need the QuantiFERON test?
People who have previously received the Calmette – Guérin bacillus (BCG) vaccine
Individuals who have a difficult time returning for a second appointment to look for a reaction to the TB skin test
How is the QuantiFERON test done?
First, your blood sample is collected using a needle and tube. Then studies are done on the sample in the laboratory, and finally, the results are sent to your doctor.
In this test, a person's immune reactivity against Mycobacterium tuberculosis is measured. The basis of the test is this: White blood cells infected with tuberculosis secrete a protein called interferon-gamma in contact with the bacterial antigen.
How are the QuantiFERON test results interpreted?
Positive: Indicates the person has the TB infection. In this case, other tests must be done to determine if the infection is active or latent. In these conditions, parameters such as physical examination and chest x-ray are considered to diagnose the type of infection. Then the treatment is planned based on the final results.
Negative: In these cases, the possibility of active or latent infection is unlikely.
How often should a QuantiFERON test be done?
There is no problem with repeated this test.
QuantiFERON test near me
If you live in Las Vegas and need this test, you can go to the Southern Nevada Occupational Health Center (SNOHC). You can complete the form on the right or contact us to make an appointment. At this center, you can get reliable results in the fastest possible time.
Frequently Asked Questions about Hep Titer Test
What does a negative QuantiFERON test mean?

A negative result indicates that you are not likely to have TB (active or latent).
How often should a QuantiFERON test be done?

There is no problem with repeated the QuantiFERON test.
Other widely used services of this center are: