Tests & Screens
Using drugs and alcohol could be dangerous to the workplace and workers. Studies indicate that drug abuse costs employers around $81 billion annually and causes some critical problems. A drug abuser employee is 3.6 times more likely to participate in an event and six times more likely to make a worker's compensation claim, according to the National Institute on Drug Abuse…
When you enter the testing center, you should know that your urine sample might be necessary for some tests. It is a good idea to make a list of the medicines you are currently taking before going. Information on the use of contact lenses and the like is also essential. So try to prepare your health history information in advance.
If you are looking for a reliable and accurate test, SNOHC is your dependent option. COVID-19 testing is available at Southern Nevada Occupational Health Center for travelers and Las Vegas residents. Contact us immediately if you are experiencing symptoms or need a test for travel.
Southern Nevada Occupational Health Center offers a wide and complete range of occupational health services including the varicella titer test in Las Vegas. If you need to do this or other tests, you can get an appointment online. Also, refer to the main page of the website.
If you live in Las Vegas, you can go to the Southern Nevada Occupational Health Center (SNOHC) for this test. This center is equipped with the most accurate laboratory devices that provide reliable results in the shortest time. To learn more about other services of this center, you can also refer to the list at the top of the page. In addition, to contact us, you can fill out the form on the right and schedule an appointment online.
This test gives vast information about the respiratory condition of the patient. It indicates lung volume, flow rates, and gas exchange. You may have an underlying disease that you are not aware of. You may feel tired or breathless after a normal activity and receive it as a natural reaction. However, as time flies you will face the consequences.
For a TB skin test in Las Vegas, you can go to the Southern Nevada Occupational Health Center (SNOHC). To get acquainted with our services, you can see the top of the website. SNOHC, with more than ten years of experience, tries to promote occupational health for employees and employers.
In this test, a person's immune reactivity against Mycobacterium tuberculosis is evaluated. White blood cells in people with TB produce interferon-gamma when it is mixed with antigens.
The test takes about 15 minutes to be completed. It is usually conducted annually. After passing the test, the exact same make, model, style, and size of the respirator must be used on the job.
If your hearing is at risk in the workplace, you need to know the requirements for audiometry. Occupational Safety and Health Administration or OSHA obligates employers to make audiometric testing accessible free to all employees who experience high noisy circumstances level of 85 dB or above.
Physical Exams
An injury is an unplanned or unintentional event of getting harmed without prior precautions. Injury can occur anywhere in the body. Injury can be visible if it is a wound, scar, scratch, lesion, or abrasion.
The insurance company that applies for the IME selects the doctor to perform the assessment. Workers also have the right to ask about doctors' impartiality. You can also apply for an IME if you disagree with your treating doctor's opinion depending on the rules of the state you live in.
At SNOHC, the existing employees have to take the annual exam which determines the working ability, intellectual capacity, work experience and the exposure to the occupation. This exam basically evaluates the person through his work experience and the intellectual capacity.
Fit for Duty testing is legal. Employers have a legal right to be sure that employees will perform the tasks safely.
It should be noted, however, that according to the Americans with Disabilities Act, disability cannot prevent a worker from doing the job's essential functions, and employers cannot discriminate against hiring a disabled worker.
An employee working in a noisy environment can have their audiometry testing at SNOHC safely. By OSHA regulations, you need to be noise-free for at least 14 hours before the test.
SNOHC has been performing respiratory testing services for +15 years in Las Vegas. To know more about services performed at SNOHC, you can navigate through the menu of this website. For more information, please either call us or contact us through the form.
Pre-employment testing is performed after the candidate has applied for the job position. In this way, the employer can better choose the right candidate for the job position.
At SNOHC, we have been performing Hazmat Physical for more than 10 years. For further questions related to Hazmat Physical, please visit the subcategories on the website. If you have any questions, please feel free to contact our experts.
Scientific studies prove that exposure to asbestos is associated with several diseases, including cancers. Mesothelioma, asbestosis, and lung cancer are the three primary diseases associated with asbestos exposure.
In the case of Needle Stick Injury, the SNOHC team of experts in Las Vegas will take an emergency measure to ensure that they can stop the spread of the disease.
Vaccinations
Laboratory services include a combination of tests performed on specimens of the body (for example, blood and urine). The purpose of these services is to diagnose, treat and prevent diseases. Some clinical laboratory services that help diagnose and treat diseases include:
Hepatitis B can lead to serious liver infections. Fortunately, most people with hepatitis B recover completely, even if they have severe symptoms. You should know that there is no medicine for hepatitis B.
Both vaccines protect against diphtheria, tetanus, and whooping cough, but in different age groups. Children under seven should receive DTaP, and people over seven should receive Tdap.
Here, at Southern Nevada Occupational Health Center (SNOHC), we provide a complete of worker's health and safety services, including vaccination services, to help your employees. To get any further information about services performed at SNOHC, you can navigate through the menu of this website.
Although evidence has shown that the MMR vaccine does not harm the fetus, it is not recommended during pregnancy. You should also avoid becoming pregnant one month after vaccination.
The varicella vaccine contains an active immunizing agent that causes the body to make a protein called an antibody against the varicella-zoster virus. In this way, long-term immunity is achieved.
Laboratory services include a combination of tests performed on specimens of the body (for example, blood and urine). The purpose of these services is to diagnose, treat and prevent diseases.
MMR vaccine side effects
---
The vaccine can be used either for prevention or after getting infected with Measles, Mumps, and Rubella. However, getting vaccinated is way too better than getting infected with Measles, Mumps, and Rubella. You may experience sore arms, mild rash, fever, or temporary joint pain. Any medicine includes side effects, and vaccines are not apart from that.
What is Hazmat Physical Exam?
---
Hazmat Physical exam is defined by OSHA (Occupational Safety and Health Administration) for workers exposed to hazardous substances. Also, if a worker is exposed to a hazardous substance that endangers his health, these tests will be performed to determine if they can return to work.
Watch our video to find out about occupational health services at SNOHC
SNOHC is a team of experts to meet all Las Vegas Occupational Health and Workmen's Comp demands. We've performed the best occupational health services in Las Vegas for over 15 years. Our client's trust is the real treasure we hold.
Southern Nevada Occupational Health Center (SNOHC)
We have extensive experience in Occupational & Environmental Medicine and workers' health and safety in Las Vegas. Our goal is to help employees recover from on-the-job injuries and to provide services to keep them healthy and safe at work. Some of our services are Work Injury Treatment, Post-Offer Physical Examination, Drug, and Alcohol testing, DOT Physical Exam, Respiratory Fit Test, X-rays, Vaccination, Titers, Asbestos Physical Exam, TB testing, Audiogram, Pulmonary Function Test (PFT), HazMat & HAZWOPER Physical Exams, wellness programs, laboratory services and many more.
The results we achieved by satisfying our clients during the past years have made us the best occupational health and workman's compensation clinic in Las Vegas. Contact us, and let us keep your occupation safe and healthy.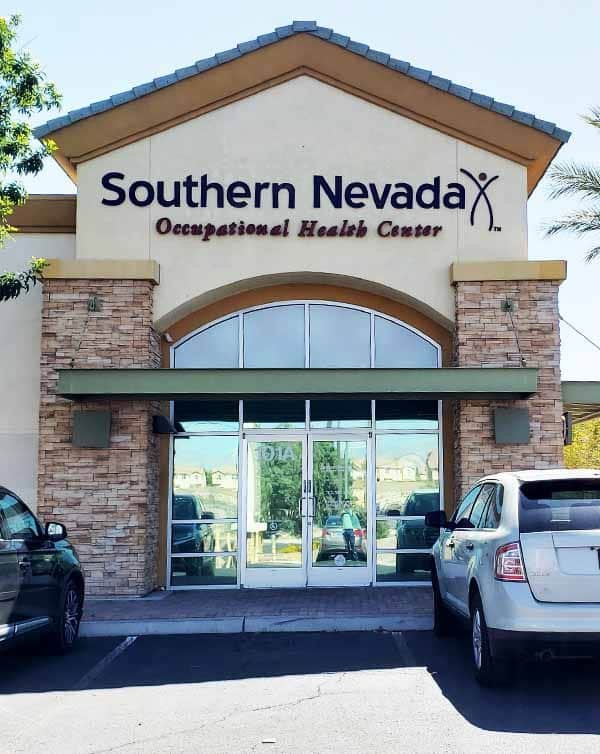 "Having Healthy Employees Makes the Company More Productive"
June 20, 2023
The Complete Guide to Non-DOT Physical Exams: What You Need to Know for Your Next Check-Up Are you due for a
[…]
February 1, 2022
Allergies are not considered comfortable or easy to deal with. They might bewilder you because you cannot be sure fully
[…]
January 19, 2022
There are several ways to avoid work-related injuries, including providing training, safeguarding mechanisms for risk management, risk assessments, and safety
[…]