What is a Respiratory Physical Test?
The Respiratory Physical test is part of a physical examination which diagnose the patient's breathing system and lungs function. This test is done by physicians to find out if the employee's lung is performing properly. Once the physician has completed the physical evaluation, then diagnostic tests may be ordered to confirm the diagnosis..
SNOHC can do a pulmonary function test, which determines the patient's lung capacity. This is a noninvasive, fast test that is less expensive. SNOHC also has an in-house X-ray capability that can perform Chest X-rays to confirm the diagnosis. There is also an in-house lab provided at SNOHC, which is convenient for the patient, the caregiver, and the provider. As a result, it promotes continuity and fast delivery of care.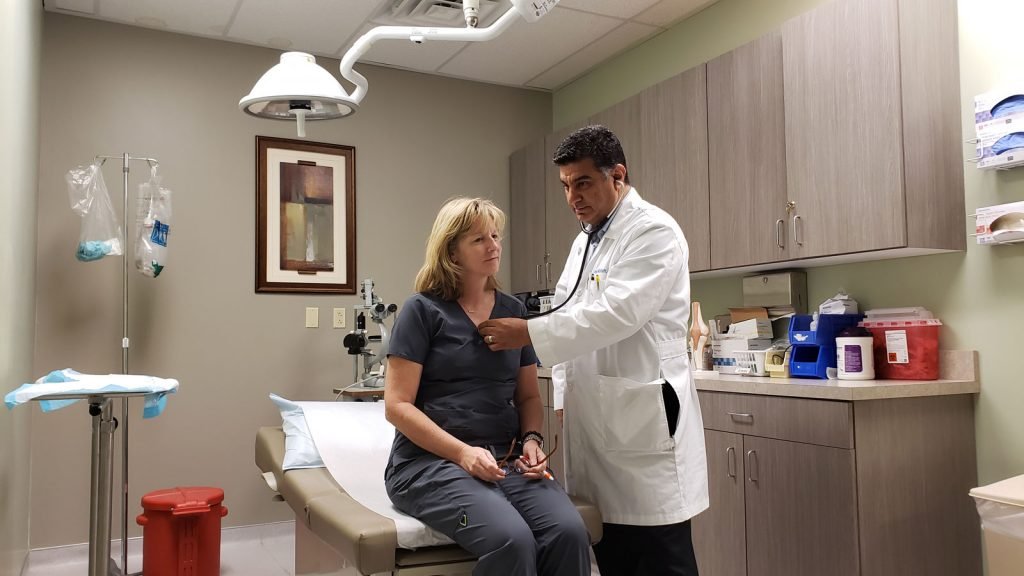 THE PROCEDURE OF CONDUCTING A RESPIRATORY PHYSICAL EXAM
SPIROMETRY
Spirometry is the most vital function test conducted at SNOHC, that can measure the vital capacity and the volume of the forced expiratory in 1 second. It allows the examiner to differentiate between the obstructive and restrictive respiratory diseases.
AIRWAY RESISTANCE AND LUNG CAPACITY
The respiratory physical test also determines the total lung capacity through body plethysmography or by using a diluted gas. Apart from measuring the total lung capacity, the respiratory physical exam can also measure the air resistance.
DUFFUSING CAPACITY
The transfer factor is used to determine the capacity of the diffusion of carbon monoxide gas in the lungs. It is a one-breath test that is capable to measure the gas-exchange function of the lungs.
ANALYSIS OF BLOOD GAS
This is the most useful test in the respiratory physical exam. The gas in the arterial blood can be used to measure the arterial CO2 tension and arterial O2 tension.
RESPIRATORY MUSCLE FUNCTION TEST
At SNOHC, we measure the maximum pressures produced at the mouth during maximum expiratory and respiratory efforts.
VENTILATION CONTROL
At SNOHC, mouth occluded pressure is measured by the hypoxia withdrawal and hyper-oxic re-breathing procedure.
SNOHC
 has been performing Occupational Health Services for +15 years in Las Vegas. To know more about services performed at SNOHC, you can navigate through the menu of this website. For more information, please either call us or 
contact us
 through the form below.
Online Appointment!
Online Appointment
---
Stay Healthy!! Stay Strong!!
---
To make an appointment online at Southern Nevada Occupational Health Center (SNOHC), click here and file the form or call us at (702) 380-3989
Click Here →