After all of the trouble with COVID-19 pandemic, now is the time for good news; vaccination. Although it is not currently possible for experts to accurately predict when the pandemic will end, a hopeful prospect seems to be on the way.
In the following, we intend to provide you with the latest data you need to know before receiving the COVID-19 vaccine based on the most reliable sources.
How does COVID-19 Vaccines Work?
COVID-19 vaccines are generally made in a way that the body can be protected against the virus. Vaccines work by different mechanisms, but the ultimate goal is for the body to be able to produce enough B and T lymphocytes. B and T lymphocytes are a kind of white blood cells that are involved in making antibodies and attacking infected cells.
After vaccination, the body needs some time to produce enough B and T lymphocytes. So keep in mind that just after vaccination, there will be a possibility of getting infected. It's because the immune system hasn't had enough time to provide the necessary protection.
The Vaccine Testing Process
Once scientists have designed a vaccine, they must evaluate it in various stages. The main purpose of clinical trials is to ensure safety, efficacy, and understanding of side effects. The clinical trials of a vaccine from the time it is designed to the time it releases the pharmaceutical market and mass production are:
Preclinical studies: At this stage, scientists test the new vaccine on cells and then on animals such as mice to ensure the vaccine can produce an immune response.
Phase 1 (Safety): At this stage, scientists study the effects of the new vaccine on a small number of people to check the safety, dosage, and immune system response.
Phase 2 (Expanded): At this stage, the main focus is on safety and immunity stimulation. In the second phase of studies, the vaccine will be tested on several hundred people.
Phase 3 (Efficacy): The research at this phase should be large enough to ensure the vaccine's effectiveness and safety. Scientists also examine the possibility of side effects. So they give the vaccine to several thousand people and compare the results with the volunteers who received the placebo.
Approval: Regulators in each country review the clinical trial results and decide whether to approve or reject the vaccine. Even when the vaccine is approved, scientists continue to monitor people to ensure the vaccine is safe and effective.
According to the CDC, as of November 24, 2020, the following vaccines were in the third phase of clinical trials in the United States:
| | | |
| --- | --- | --- |
| candidate | Sponsor | institution |
| BNT162 | Pfizer, BioNTech | Multiple study sites in Europe, North America, and China |
| mRNA-1273 | Moderna | Kaiser Permanente Washington Health Research Institute |
| AZD1222 | The University of Oxford; AstraZeneca; IQVIA; Serum Institute of India | The University of Oxford, the Jenner Institute |
| JNJ-78436735 (formerly Ad26.COV2.S) | Johnson & Johnson | Johnson & Johnson |
| NVX-CoV2373 | Novavax | Novavax |
How will people receive the Covid-19 vaccine?
The Covid-19 vaccine is injected to your upper arm. You will receive two doses; You will get the second dose 3-12 weeks after having the first dose. In general terms, you will have two doses of the same vaccine.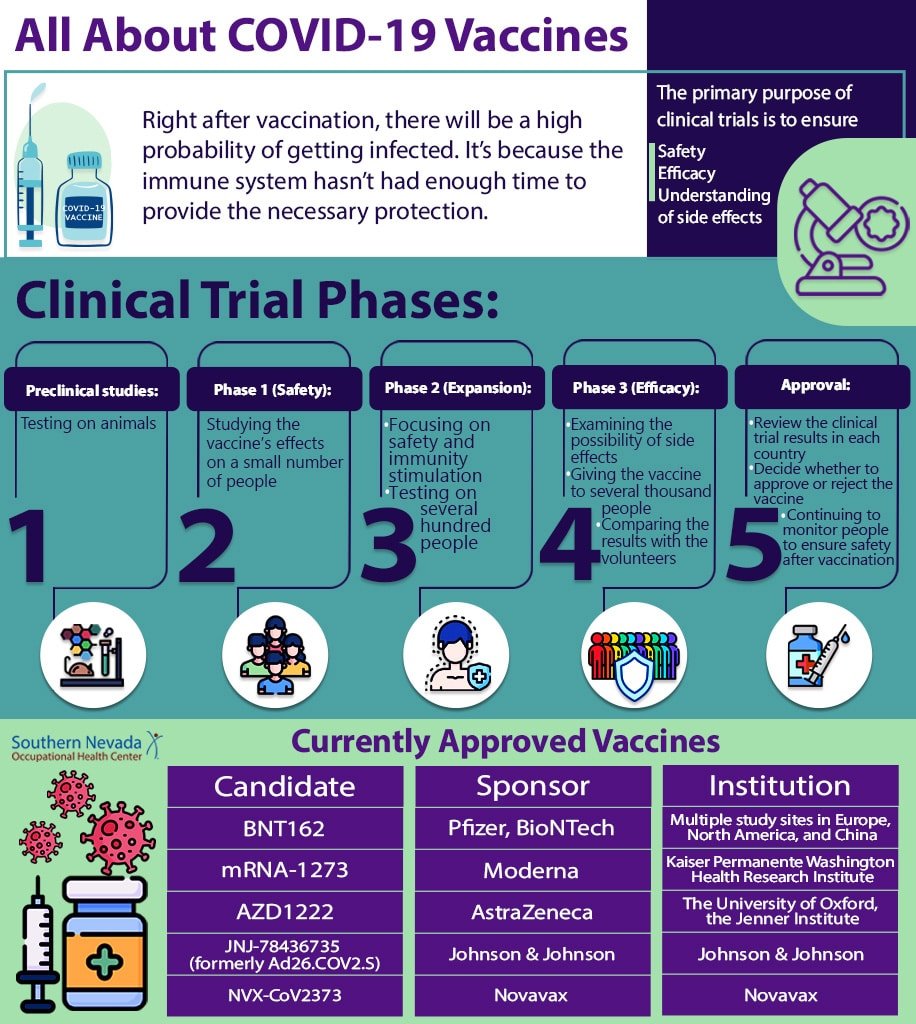 How is the Covid-19 vaccine authorized?
After the efficiency of the vaccine is proved, it must be authorized by national regulators, meeting the exact standards. Then it shall be distributed. WHO is collaborating with worldwide partners to integrate key steps in this process. It includes making sure everyone has access to safe COVID-19 vaccines.
WHO tries to facilitate caregivers' jobs by sending what is necessary to all around the world. Although multiple types of vaccines have been authorized, there are plenty of people who are in need and haven't received a vaccine yet.
Up to now, the vaccines of Pfizer, Maderna, and AstraZeneca and Johnson & Johnson's Janssen have successfully passed the third phase of clinical studies.
On February 18, 2021, at least seven different vaccines across three platforms had been established around the world. The highest priority for vaccination is the people who are considered as the most vulnerable groups.
How many vaccines are authorized?
Vaxzevria (formerly AstraZeneca) is authorized in the EU to prevent COVID-19. According to WHO, The benefits of Vaxzevria are worth its risks in adults of all age groups. However, The Vaxzevria test was not successful on people with rare blood clots.
Vaxzevria is effective in:
Blocking hospitalizations
Intensive care unit (ICU) admissions
Preventing death
The most common side effects are often mild and get better within a few days.
CDC and FDA have confirmed and authorized Johnson & Johnson's Janssen COVID-19 Vaccine. They have recommended the vaccination resume in the United States, as it has been effective since April 23, 2021. However, women who are younger than 50 years should be aware of the rare risk of blood clots with low platelets after vaccination.
Johnson & Johnson's Janssen vaccine
The J&J/Janssen COVID-19 Vaccine has been 66.3% effective in clinical trials in preventing COVID-19 illness in people without prior infection. 2 weeks after vaccination people have reached most protection.
The vaccine had high efficiency at preventing death in people who got infected.
The ones that got COVID-19 at least 4 weeks after getting the J&J/Janssen COVID-19 Vaccine didn't have to be hospitalized.
The evidence indicates that the J&J/Janssen COVID-19 Vaccine might provide protection against asymptomatic infection as well. This case happens when a person is infected by COVID-19 but does not get sick.
Johnson & Johnson's Janssen vaccine side effects
The side effects were common up to 7 days after vaccination but were mostly mild. They were more common in people between 18 to 59 years old than people of 60 years and older.
However, serious adverse events such as blood clots with low platelets may occur after the vaccination. The odds are as follows:
An occurrence at a rate of 7 per a million vaccinated women between 18 and 49.
For women who are 50 years or older and men of all ages, the adverse event is rarer.
Are there more authorized vaccines?
At the same time, more than 200 vaccine candidates are in progress, of which more than sixty are in clinical development.
COVAX is part of the ACT Accelerator. They intend to end the acute phase of the COVID-19 pandemic by taking the following actions:
Accelerating the progress of safe and effective vaccines against COVID-19
Supporting manufacturing capabilities
Collaborating with governments and manufacturers to make sure of the fair and equitable distribution of the vaccines
Scientists are developing potential Covid-19 vaccines around the world. The vaccines are all established to empower the body's immune system to safely block the COVID-19 virus.
Are Covid-19 vaccines lifelong effective?
According to WHO, safe vaccines are vital. However, in the foreseeable future, we should still:
Wear masks
Keep the social distancing
Avoid crowded places.
Vaccination does not mean full protection, as further studies are being done.
As a matter of fact, the lifelong profitability of the vaccines has not been demonstrated yet. So you shouldn't put yourself at risk.
How many people have been vaccinated so far?
As soon as the first information about the COVID-19 virus was obtained, scientists began to develop structures and vectors for vaccine production. So far, 53.7% of the US population have received at least one dose of a vaccine.
The first mass vaccination program began in early December 2020. As of February 15, 2021, 175.3 million vaccine doses had been administered. At least seven different vaccines (3 platforms) have been administered up to now.
How long does the protection from Covid-19 last?
Experts are still working on all the aspects of COVID-19. We can't say that it is fully distinguished as we have generated vaccines. Researchers are observing the virus to find out for how long the vaccine may work.
"We only have information for the time the vaccines have been studied," Deborah Fuller vaccine researcher at the University of Washington says.
Fuller continues: "We have to study the vaccinated population and begin to see why people become vulnerable for the second time to the virus".
So far, Pfizer's ongoing trial has shown huge success with a two-dose vaccine.
Researchers admit that this type of vaccine can be effective for at least six months and likely longer. People who got Moderna's vaccine were notably immune to Covid-19 for six months after the second required shot.
Antibodies are not the only remedy to fight viruses. Our immune systems have another line of defense which is called B and T cells. These cells can hold the body still long after antibody levels fade out.
Even if they don't thoroughly prevent illness, they could help lessen its severity. But yet there is no evidence how long these cells will remain and further studies shall be made.
What is V-safe and how does it work?
V-safe is a tool that is based on smartphones, using text messaging and web surveys to offer personalized health check-ins after getting a COVID-19 vaccine.
By using V-safe, you can quickly inform the Centers for Disease Control and Prevention in case you have any side effects after the vaccination. Then,  someone from CDC calls to check if the condition is stable or not. V-safe will also remind you to get your second COVID-19 vaccine dose if you need one.
Parents can register adolescents of 12 or older in V-safe and complete health check-ins instead of them after COVID-19 vaccination. All adolescents who are eligible for the vaccine can be enrolled in V-safe. However, parents should use their smartphones to enroll each adolescent.
COVID-19 vaccines in Las Vegas
Southern Nevada Occupational Health Center provides the citizens of Nevada with COVID-19 tests. You can set an appointment online or give s a call at any time of the day to get occupational services.